Press Releases
Press Releases Archive by Title:
Heavy Duty C-Frame Inverter
Technical Data Sheet Details West Bend's Custom-Designed Material Handling Equipment
Scissors Lift Brochure from West Bend Equipment
Custom Designed Inverters and Upenders Described in Technical Data Sheet
Heavy Duty C-Frame Inverter
West Bend Equipment, a division of Bushman Equipment, Inc. custom designs and manufactures rugged, heavy duty C-frame inverters for industry's most demanding applications.
West Bend Equipment's C frame inverters rotate heavy loads through 180 degrees safely and efficiently. Unlike other inverters on the market, they are built for high capacity, high cycle operations. With platform sizes ranging from 36 by 36 inches to over 120 by 120 inches, they are designed for the customer's specific application and can be fitted with conveyers, roller tables, fork pockets, anti-friction surfaces, etc.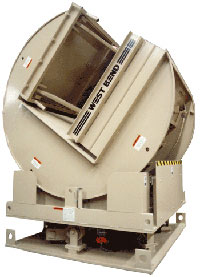 Technical Data Sheet Details West Bend's Custom-Designed Material Handling Equipment
West Bend Equipment, a division of Bushman Equipment Inc., offers a free technical data sheet that details features and benefits of its full line of custom-designed material handling equipment.
Highlights of this new publication are the improved model IB and IC inverters that feature open sides for flow-through sheet inversion. These inverters safely and efficiently handle extra-large sheets that can be fed and removed with a forklift or conveyor. Both barrel and C-frame inverters revolve heavy loads through 180 degrees, safely and securely. And, both can be integrated into automated production lines when coupled with a powered roller conveyor.
Scissors Lift Brochure from West Bend Equipment
A free Scissors Lift Technical Data Sheet is available from the West Bend Equipment Division of Bushman Equipment, Inc.
This brochure provides an overview of the complete line of West Bend scissors lifts, designed for use in a wide variety of industrial applications. These high capacity, hydraulic workhorses can lift and/or position equipment up to 50 tons or more. There are models designed to carry people safely to high or difficult to reach work areas. Other models are specifically designed for applications in which the tabletop will be subjected to severe side or end loading. Other available features include low collapsed height, extended vertical travel with compact platform length, long load capability and screw-actuated lifting for applications where hydraulics cannot be used.
Custom Designed Inverters and Upenders Described in Technical Data Sheet
Custom designed inverters and upenders for heavy-duty material handling applications are described in a free Technical Data Sheet available from West Bend Equipment, A Division of Bushman Equipment, Inc.
In addition to an overview of product designs, features and options, the data sheet includes Application Inquiry Forms that can be faxed or mailed to West Bend Equipment for rapid response in developing proposals for the design and manufacture of custom built inverters and upenders.
The data sheet describes West Bend barrel and C-frame inverters which rotate heavy, large loads through 180 degrees, safely and efficiently. West Bend mechanical and hydraulic upenders are designed to rotate steel coils and other bulky loads through 90 degrees. Inverters and upenders can be designed to work with production systems with totally automatic operation.
Products | Custom Engineering | About Us | Technical Papers | Press Releases | Case Studies | Request a Quote | Contact Us | Home