Coil Mounting Systems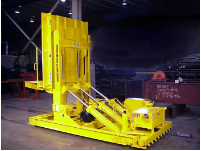 Coil Mounter
Engineered to your specifications, West Bend Equipment custom builds coil mounters to handle a full range of coil sizes and weights, including removing partial coils. These multi-function machines are designed to follow complex sequences such as:
Accepting palletized or un-palletized coils with the eye vertical
Tipping the coil 90 degrees to eye horizontal
Lifting the coil to align the eye with the mandrel
Driving horizontally or vertically to mount the coil
Used coils or partial coils can be removed by reversing this procedure.The model RTLTC coil mounter shown above combines the functions of an upender and coil cart. It features double-acting hydraulic tilt cylinders, powered track drive, and powered lift and lower functions to center coils on the mandrel.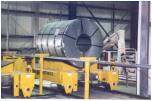 Coil Transfer Cars
These fully automated coil transfer cars are track mounted. They were designed to move steel coils weighing 42 tons. They can handle coils up to a maximum diameter of 80 inches and a maximum width of 72 inches.
Products | Custom Engineering | About Us | Technical Papers | Press Releases | Case Studies | Request a Quote | Contact Us | Home