Case Studies
Case Studies Archive by Title:
Unique Design For Composite Manufacturer In The Windmill Industry.
West Bend Equipment Designs Custom Vehicle Mover
West Bend Designs Custom Tilt Table for E-One
Innovative Design of Pump Test Stands Improves Efficiency of Prototype Lab
Unique Design For Composite Manufacturer In The Windmill Industry.
The West Bend Equipment Division of Bushman Equipment, Inc. recently designed a number of unique products for a composite manufacturer in the windmill industry.
The first application required a fiberglass propeller for a wind powered turbine generator to be held and rotated 360 degrees for quality inspections. The propellers range in length from approximately 90 to 96 feet, and they weigh 11,000 pounds. West Bend engineers met the needs of this customer by designing a pair of inverter carts to position and rotate the propeller during quality and reliability tests. Each cart is able to rotate 360 degrees. One cart is powered, and the other is an idler cart. Both carts have swivel casters, providing mobility for proper positioning of the propeller. The powered cart has two metal rollers, one of which is driven by an electric motor. The rollers have a non-marring surface to prevent damage to the fiberglass surface of the propeller. The carts are driven with a variable frequency drive for smooth, precise control. The mobility of the carts increases efficiency when moving the propellers to other areas.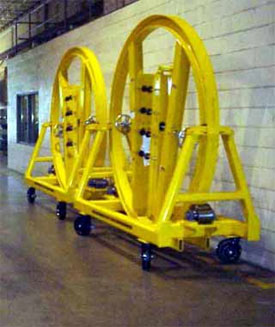 The second part of this application required a load tester and test stand to perform the rigorous bending and vibration tests that ensure each blade will hold up under the harsh windmill environment. 25,000 pounds of pressure is exerted on each blade to verify the integrity and measurements of the blade, as well as to confirm the natural frequency of the blade. The equipment was designed to minimize handling time and simplify the testing process.
To accomplish this, West Bend created a special scissors lift with a calibrated load weighing system that can apply the correct bending pressure and a unique test stand that hydraulically clamps the blade firmly to a rigid grounding point. This special hydraulic clamping mechanism enables quick installation and removal of the blades during testing.
West Bend Equipment Designs Custom Vehicle Mover
The West Bend EasyMover is a great utility tool for moving vehicles without having to start the engine or put the vehicle in-gear. Applications include moving a car from the assembly line for emissions testing at the factory; moving vehicles in a dealer lot, showroom, service bay, or rental car service center.
The EasyMover has a slim 5-inch profile and slides under any car or truck with ease. With the push of a button, the lifting pads extend behind and lock onto the wheels of the vehicle and lift it off the ground.
A variable speed electronic drive system pulls the vehicle at a speed of up to 3 miles per hour. A 24 volt DC battery ensures there are no toxic fumes. The self contained hydraulic system requires minimal maintenance. The EasyMover comes equipped with multiple safety features, including posi-grip controls, clamp and lift interlocks, and a traction reversing switch.
The unique EasyMover will improve the productivity of your operation while providing a safe and clean working environment for your employees.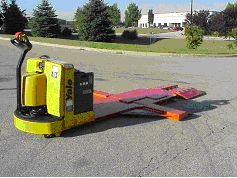 West Bend Designs Custom Tilt Table for E-One
E-One, a leading manufacturer of fire-fighting equipment selected the West Bend Division of Bushman Equipment, Inc. to design and build a high capacity tilt table to test their new breed of fire trucks. E-One, established in 1974 and employing more than 1,300 people, manufactures virtually every type of fire and rescue vehicle required by fire departments, rescue/EMS squads and airports.
One of the requirements in producing their Aircraft Rescue and Fire Fighting (ARFF) trucks is to test them in accordance with SAE J2180. This specification establishes the procedure for measuring the Static Rollover Threshold for heavy trucks. Very simply, it determines the angle at which the trucks could tip over.
E-One previously performed this test using two in-house manufactured tilt tables spaced approximately 25 feet apart. The existing equipment was causing increasing concerns. First, today's trucks are heavier, but it was not feasible to increase the capacity of the existing tables. Secondly, it was very difficult to coordinate control of the two independent hydraulic tables. It had become obvious the existing equipment had to be replaced.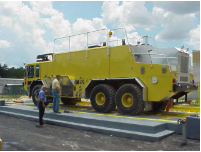 In response, West Bend designed one large, high capacity table as opposed to the two smaller independent tables. Based on projected loads, the tilt table was built with a drive-on top, 11 feet wide and 40 feet long, and with enough capacity to tilt loads weighing up to 150,000 pounds.
The table had to be mounted outside and above grade, due to local flooding concerns in Florida. In its folded down position, the table is over three feet tall. E-One added the concrete ramps leading onto and off of the table.
The table was designed and manufactured at the Bushman/West Bend facility in Menomonee Falls, WI. It consisted of two main structures. The base, which itself is a two piece weldment, and the tilt top that the truck drives onto. These two pieces were hinged together on the 40 foot side. Tilting is accomplished by five, 7 inch diameter dual acting hydraulic cylinders, operating at a system pressure of 2,000 psi from a 25 hp remote mounted hydraulic power unit. A steel curb was incorporated into the table top, and safety tie down bars were built to secure the trucks.
The table was fully assembled at West Bend and tested with 150,000 pounds of steel and concrete block weights. Tests were performed with an evenly distributed load and then with the load re-distributed (70/30) to simulate an actual truck. Pressure compensated adjustable flow control valves were used to keep the table flat while raising and lowering.
During a test, the truck is driven onto the table, and its axles are secured with chains. The truck is then tilted to the point when the tires begin to lift off the table. This position determines the rollover threshold which is recorded.
Since the table is used outdoors, all controls are housed in NEMA 4X stainless steel cabinets. The fully functional operator's console is equipped with operating switches and a position readout. Once energized, the table tilts at 0.25 degrees/second. An inclinometer is incorporated into the table. Digital readouts are located on the operator's console and on a separate six-inch, free standing scoreboard visible to everyone in the test area.
The installation was well planned. The table weighed approximately 52,000 pounds, but unloading, leveling, anchoring, field wiring and hydraulic plumbing were completed in just three days.
According to Greg Hofmann, E-One's manufacturing engineer in charge of the project, the table has expanded E-One's capabilities. "The stability of any vehicle is determined by a low center of gravity. This tilt table not only allows us to test ARFF vehicles, but also a host of other trucks." Hofmann added, "With this test data we are now determining critical center of gravity information which is crucial as we develop and refine our designs. This gives E-One a sharp, new competitive edge in the marketplace".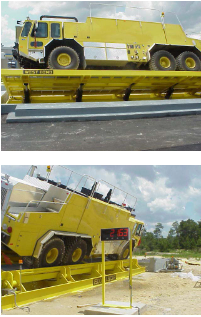 Innovative Design of Pump Test Stands Improves Efficiency of Prototype Lab
Bushman Equipment's custom design expertise was recently put to use by a Midwest based pump
manufacturer. This company puts their prototype designs through rigorous stress and endurance tests.
Their previous method took between 15 to 20 hours to set up a prototype pump and motor for testing.
These pieces can weigh up to 3,000 pounds each, and require extremely precise alignment.
Bushman's West Bend division was asked to design a portable test fxture that would allow easier
adjustment of centerline height and spacing to accommodate a wide range of pump and motor
combinations. In response, West Bend designed and built two test stands. Each unit has two heavy
steel tables with milled tee-slots to secure the pump and motor. The tables have precise hand crank
adjustment through a 4-comer ball screw actuator system. One hand-wheel revolution equals .042* of
vertical height adjustment. One of the tables can also be moved laterally to adjust the distance between
pump and motor centerlines.
Due to space constraints and limited overhead lfting capacity, West Bend engineers designed in air
bearings to allow easy movement of the test stand for placement in the desired area of the lab. The
technicians can simply plug in the available compressed air supply and the 4 000 pound stands can be
pushed by hand along the floor.
The test stands are cutting set-up time by at over 50% and greatly reduce the strain of shoving and
shimming the heavy components into proper alignment The addition of the pump test stands will
reduce total lab time and help get new products to market faster.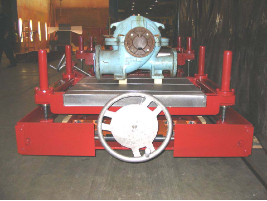 Products | Custom Engineering | About Us | Technical Papers | Press Releases | Case Studies | Request a Quote | Contact Us | Home