Load Inverters
View Product Brochures


Special Application Lifts
Standard Lifts


Request Literature Mailing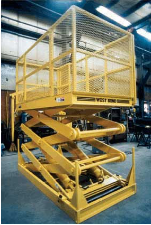 Hydraulic Lift Table
West Bend Equipment designs and builds large, high capacity hydraulic lift tables, scissors lifts and work platforms.
West Bend Equipment's lift tables and scissors lifts use all welded steel construction and comply with AWS D1.1 and ANSI MH29.1. Structural members, including frames, scissors arms, push blocks, and roller channels, are fabricated from high section modulus steel to provide exceptional stiffness and strength. Top and bottom channel rollers are captured to minimize deflection and maintain rigidity. A flow control device is rigidly attached to the lift cylinders, and a maintenance locking pin is provided to secure the legs in an open position.

These are just a few of the many features that enhance the safe and reliable operation of West Bend hydraulic scissors lifts.
Click on a model below for more information:

Model STXS Scissors Lift

Model STXS Scissors Lift

Model STX Cam Style Scissors Lift
Model STXXXS Triple High Scissors Lift

Model STX-SCR

Model STX-SCR Lift Table

Model IC C-Frame Inverter

Model DSTXS-L Double Long Scissors Lift Table

Model DSTXS Lift Table

Mechanical Screw-Actuated Scissors Lift Table

Model STSX-TC Traversing Lift Table
Products | Custom Engineering | About Us | Technical Papers | Press Releases | Case Studies | Request a Quote | Contact Us | Home