Hydraulic Upenders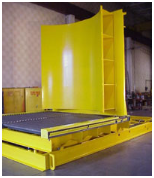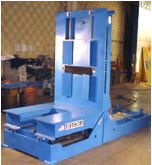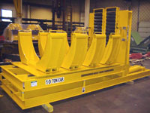 Hydraulic Coil Upender
The West Bend Equipment hydraulic coil upender provides great flexibility to meet your material handling requirements. Hydraulic upender platforms can be sized to handle a wide variety of load configurations, including long loads such as paper rolls, or other loads whose length is significantly greater than its width or diameter.
Another advantage of the West Bend hydraulic coil upender is its unparalleled flexibility in providing secondary handling functions, such as roll discharge tilt platforms, shifting saddles, and pallet centering systems.
West Bend hydraulic coil upenders utilize high-quality double-acting tilt cylinders. Loads rotate around heavy-duty pivot bearings, complete with lubrication points. Electrical limit switches halt rotation at each end of the pivot cycle. Safety features of West Bend hydraulic upenders include factory-set pressure relief values, maintenance lockout pins, and industry standard guarding and warning labels.
A variety of models with fully integrated, heavy-duty hydraulics and precise positioning is available. Capacities range from 1,000 to 100,000 pounds.
Optional platform sizes can be designed to customize hydraulic coil upenders. Other options include tilting capability, various types of conveyor decks, and wheels for rail travel or mobile use.
West Bend coil upenders can be modified to work in most systems with totally automatic operation. Each West Bend hydraulic upender is built for demanding duty cycles and is thoroughly load tested.
Click on a model below for more information:

Model RT Hydraulic Upender

Model RT Hydraulic Upender
Products | Custom Engineering | About Us | Technical Papers | Press Releases | Case Studies | Request a Quote | Contact Us | Home